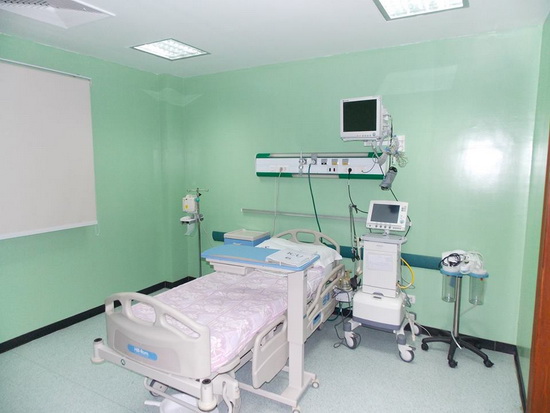 Intensive care unit
Dream hospital Intensive care is an integrated unit that provides a distinct medical and nursing services for its latest medical equipment and latest intensive care system designs that have the upper hand to follow up the patient continuously, clearly and accurately. Moreover; intensive care supervision is carried out by integrated medical crew composed of most efficient physicians and consultants of high-efficiency and excellence. Furthermore; a professional nursing staff are working hard to provide the best nursing service with patients ever, ultimately this outstanding service leads to better patients' health to keep him in a stable state which is our goal in intensive care unit.
Intensive care unit view:
Intensive care unit in dream hospital aims at providing medical and nursing integrated care deals with all cases whatever seriousness was the patient's case by the help of latest equipment and devices needed for urgent cases.
Intensive care unit contents:
First: beds:
Intensive care unit in dream hospital includes 16 modern bed that are flexible enough for changing the patient's position easily with the existence of modern air mattress to avoid Bed sores.
Second: monitoring devices:
Intensive care unit in dream hospital has six latest monitoring devices that enables monitoring Patient's vital signs moment by moment that plays an essential role in improving the care provided to the patient, by taking into consideration that these devices are connected directly to central station in order to follow up all patients at the same time.
Third: mechanical ventilation:
Intensive care unit in dream hospital has three modern mechanical ventilation which enables dealing with all cases in need to mechanical ventilation for all ages.
Fourth: Haemo dialysis machine:
Intensive care unit in dream hospital has Haemo dialysis machine that enables dealing with acute or chronic renal failure rapidly and uniquely.
Fifth: Medical examination and scan:
Intensive care in dream hospital has ECG devices in addition to sonar devices for Abdomen, pelvis and Cardiology echo.
Sixth: isolation room:
Intensive care unit in dream hospital has isolation room prepared by latest equipment and devices that enables dealing with acute cases weather it suffers from infectious diseases or immune system weakness symptoms, or even any other reason requires that patient to be isolated.
Philips allura centron 2015 device is available in dreamland
it is characterized by the following:
Internal and external control unit
Coronary arteriography
Arteriography and peripheral cerebrovascular with caution of no movement while moving the device arm- c in three-dimensional imaging to the artery from all sides.
Cardiology catheter unit is available in Dream hospital
Three-dimensional 3d imaging in order to give the best result and the possibility to choose the appropriate strut
Strut Vision feature after adding it to the artery while determining the size of the affected strut artery diameter stent poost Holograms
The possibility device by making an electrical study and treatment for cardiac arrhythmias
Digital Subtraction Angiography (DSA)
Device Features
Coronary
PDA
Neuro DSA
Peripheral
Stent boost enhances stent visibility during stent – in – stent procedure
Stent boost substract enhances visibility of stent in relation to vessel lumen
Allura 3D-RA
The Section is provided with patient preparation unit before being transferred to the catheter. The patient follow-up after cardiac catheterization is equipped with latest medical devices. The patient exits after conducting diagnostic catheter for 6 hours in the case of the adding a pillar there will be a 24 hours follow up for the patient in Cardiology care unit.
Laboratory available devices:
VIDAS device is responsible for measuring blood hormones, cancer symptoms, and all types of viruses, in addition to quantitative pregnancy test, furthermore the ability to determine Cardiology enzymes CK-MB found in blood as an indicator for the existence of clot, it is worthy to state that this device can carry out all these functions in a record time.
Chemical device (I LAB) is responsible for carrying out all liver and kidney functions in addition to Cardiology enzymes, calcium, phosphor, magnesium, and blood fats.
Cell dyne analysis device is an automated device responsible for automated blood cell counting and leukocyte differential counting in cerebrospinal fluid, which is considered one of the best devices internationally.
(I LYTE) device is responsible for analyzing blood ions and, sodium and potassium.
(Stago) device is responsible for analyzing clot symptoms and determining the percentage of blood fluid automatically in a record time accurately.
Multi slice 128 unit
The device is responsible for all cardiac checking up in a standard time due to its supreme speed in showing accurate results. Moreover; all arteries checkup types as following:
CORONARY ARTERIES
CAROTID & CEREBRAL ANGIO
PULMONARY & RENAL ANGIO
UPPER & LOWER EXTREMITY ANGIO
VENOUGRAPHY
TRI PHASE
All kinds of CT sympathetically scan and without the need to apply it on all the body parts
All bones check-up through holograms in addition to GASTROSCOPY & COLONOSCOPY besides the possibility of sampling from all the body parts for diagnosis by using the device.
Radiology department is an integrated Department that is equipped at the highest level to serve patients, which is composed of elite physicians and a technician crew. The department works for 24 hours every day. The department is characterized by the latest CT 128 scan devices - television radiology and Doppler department -regular digital scan - cardiac catheterization department.
The device is responsible for all regular and dye scan check-up through computerized digital photos CR.
I.V.P: is responsible for all dye on the kidneys, bladder and ureters check-ups
H.S.G: sympathetically uterus checkups
ULTRA SOUND device
Ultrasound on all body parts and internal organs such as the liver, pancreas, spleen, etc ....
Color Doppler examinations on all the body veins and arteries.
Early detection of breast and thyroid tumors.
Colorful Cardiology Doppler Cardiology ECHO
Pregnancy and ovulation Follow-up
The possibility of taking samples from the body for diagnosis
All triple tests and four-dimensional on embryos.